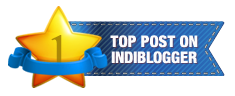 Happy Valentine's day :)
There is no reason not to enjoy this love's day when I am immensely in love with my life-partner.
This post is about our expression of love. Piyush and I did our first movie together for this
contest
in less than half a day.
Piyush took up the challenge of Racy roleplay wherein he had to
Dress up as my favourite cartoon character/super hero/rock star and ambush at school or work with a Valentine's Day invitation. As we love minions ( my old post, if yo

u follow my blog

) he decided to play smart n savvy Gru, smart buoy isn't he ;)?
The set up was ready at his office by his colleagues for some other activity. We decided to use it on the go. He called his team members whoever was free at that time on Sunday to come to office as we needed there-is-public effect. We picked our SLR and Mobiles and headed to 'his' office. We discussed and finalized the script on the way. Everybody was feeling weird and lost with Pihu running helter skelter all around.
We argued a lot, rehearsed a little and finally ditched SLR and used Mobile to call 'Action' and filmed. Two hours and the video clips were ready. With the help of Piyush's brother Akshay, we edited, merged the clips using iMovie in Mac. Put the background song to give it the Close-up feel and our amateur attempt at short film making was fulfilled.
I feel immensely happy to share that our casual attempt bore fruits as the video won a gift voucher at Flipkart and a daily winner at Closeup and is among the few videos to be uploaded on Closeup Cupid games
gallery
. For more romantic but complete fictional (also a little real :P) account of our story, please read Piyush's version of our story
here
:
As for the video, here it is. Do let me know what you think about our movie :)