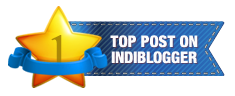 My blog is a reflection of my that part of my personality that I do not reveal just to anyone in person. I am an introvert and speak little to new people or you can say I take my own sweet time to open up with strangers. There are many reasons for it. The foremost reason is only when I am sure that the other person is going to respect my views even if we are not on agreeing terms, I speak frankly. Inviting conflicts is not my cup of tea. So when Piyush came to meet me for the first time, in just 5 minutes I concluded that I do want to speak my mind to him. He tried really hard but I didn't budge.
It was only later when he read my blog posts he realized I will make a good partner to him. And he struggled but finally convinced me of that too. Oh, how grateful I am to my blog for showing me the right path that lead to him! This was the greatest compliment anyone could have given me. Accepting me as a life partner wholeheartedly.
Even when I am not sure of my writing capabilities, he remind me of this. But I tell you I was bowled over when I read his writings. Yes, he writes too! He has this uncomplicated mind and very broad views and that is his style of writing too. But unlike me, he is a dedicated software professional who doesn't miss his creative side much, probably because he is as creative in his job. Still, how can a talent like his fade away. So, after much pestering and inciting and forcing him to write guest posts on my blog, I am finally able to fan the flames. Yes, my Mr. Darcy has brought back his blog from its burnt and cool ashes. Introducing to all my friends in blogging community
pseudorandomthoughts.in
- a panorama of beautiful meaningful poems, thoughts, tech reviews and much more from this wonderful personality.
Here's are few of my favorite lines in one of his poem "
Love
":
True love is a joy
But remember, in love do not fall
Rise in love, love is for rising
Grow in love to heights tall
Let your love flow freely
Never confining in expectations
The joy lies in inexpressible feelings
Eyes conveying speechless confessions
When you love some one
Just love truly without any bound
And ask your sweetheart to tread softly
Because your dreams lie all around
Way to go Piyush! All the best..